Home
Michigan Insurance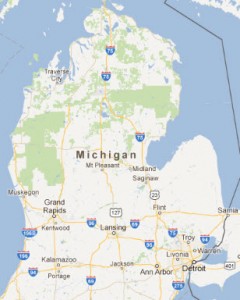 The state of Michigan is famous for many things including the Great Lakes, fishing, swimming, water sports, and… excessively expensive car insurance rates!
Regrettably Michigan car insurance rates are the most expensive in the nation! (Click here to learn why.)
If you're looking for Michigan car insurance, home, life or business insurance, we can help you. Contact Pathway Insurance at 1-800-998-0662. We also offer Michigan car insurance quotes online.
How a Michigan Independent Insurance Agency Can Benefit You?
An independent insurance agency is not limited to working with only one insurance company.  Independent insurance agencies can help shop for insurance among many different insurance companies helping consumers find the best options for their individual circumstances.
To keep your premiums low on a long-term basis you need to work with an independent insurance agency such as Pathway Insurance.  We have the ability to shop the market among top rated insurance carriers, especially is that important as Michigan has the most expensive car insurance rates in the entire country!
Our independent insurance agency represents some of the top companies in Michigan and we can help you find competitive insurance rates in Michigan.
We Offer Valued Services for Our Policyholders
Our agency offers a number of unique services that will benefit you personally if you decide to allow us to take care of your insurance needs. We offer the Pathway Protection Letter™, the Pathway Coverage Checklist™, plus are most important service the Pathway Claims Advocacy Program™.
A cheap insurance price without any advice™ could cause great financial hardship to you and your family.  The reason why this is true is because insurance policies are far more complicated than the price we pay for it™.
Types of Michigan Insurance Coverage We Offer
Please click on the links below to be directed to specific information for insurance coverage options, or call 1-800-998-0662.
Michigan Auto Insurance – Michigan Home Insurance – Michigan Life Insurance – Michigan Business Insurance.
Pathway Insurance operates in the states of Michigan, Ohio, Indiana, and Kentucky.
We Can Help You Make the Best Choice
Some insurance companies are interested in influencing your decision by means of television commercials. Insurance is far too to complicate to make a purchasing decision based on a clever or funny commercial.
If you make a mistake on your insurance and fail to secure the appropriate coverage that decision may stay with you for a long period of time financially. So it's important to pick the right coverage right from the start and we can help you do that.