Archive for September, 2014
Need the Best Rates on Michigan Roofing Contractors Insurance?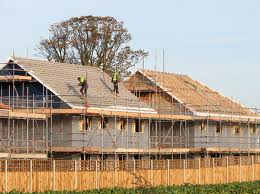 Call Pathway Insurance at 1-800-998-0662.
We offer great rates for roofing contractors insurance in Michigan, Ohio, Indiana, and Kentucky.
If you are Not a Roofing Contractor Don't Leave Our Website!
We insure all types of contractors with exceptionally low prices! 
Call 800-998-0662 to speak with a licensed Michigan roofing contractors insurance specialist!
What Type of Insurance Coverage is Important?
General Liability – This coverage protects your business or yourself personally (if you are a sole proprietor) from property damage or bodily injury that your business becomes legally liable for.
Example: You offer a bid to replace a roof on a local apartment building complex. Your bid is accepted and you plan to begin working on the apartment building complex the following week.
You order and place your three tab shingles in a convenient position on top of the roof and plan to return the next day with you and your crew. That evening a storm rolls through the area causing your shingles to break loose and fly all over the parking lot damaging 13 cars.
The apartment building complex files a claim on your general liability insurance and your company pays $27,000 in damages.
Workers Compensation Insurance – The state of Michigan requires most businesses to have worker's compensation insurance unless you qualify for an exemption. If an employee is injured while working in your behalf, they may collect workers' compensation benefits.
Call Pathway Insurance at 800-998-0662 if you also need Michigan workers compensation insurance quotes.
Coverage for Tools and Other Business Property– Your tools, equipment, or material used on the job site can be protected by purchasing contractor's tools or a separate policy. Please note any type of mobile equipment that leaves your established business location, such as excavation equipment, bobcats etc. must be covered under in inland Marine insurance policy.
Call Pathway Insurance for Roofing Contractors Insurance in Michigan!
Speak with one of our licensed representatives when you need roofing insurance in Michigan, Ohio, Indiana, and Kentucky by calling 800-998-0662.
Insurance also available in the following areas:
Roofing contractors insurance Lansing Michigan

Roofing contractors insurance Grand Rapids

Roofing contractors insurance Detroit Michigan

Battle Creek Michigan roofing contractors insurance

Warren City Roofing Insurance

Roofers insurance Flint Michigan

Ann Arbor Michigan Roofers Insurance

Roofing insurance Sterling Heights Michigan